From young adult fantasy to historical non-fiction; from novels to novelettes, editing work is never the same. Here, I'm celebrating the talent and tenacity of several authors whose stories have very recently become 'real' books.
Mission Vorvix by Derin Ahmetoglou
'The fate of the world lies on her shoulders…'
Fierce warrior and loving daughter, Crystal LaDeen is sent on a quest to prevent the destruction of the world. On a quest through magical realms in search of the fabled Five Gems, Crystal has a personal mission too: to find her missing mother.
Derin is a fifteen year old author from North Cyprus, and this YA fantasy novel is her debut.
They Once Were Shipbuilders by R.O Neish
'Volume I (1850-1945) of a complete history of the ships built in the Scottish port of Leith'.
Scattered with original photographs and anecdotes, this comprehensive text is a very accessible history of a maritime heritage that has often been overlooked.
Ron, himself, is a proud shipbuilder, a loftsman still actively involved as a consultant in the maritime industry. As well as subsequent volumes, he's also working on a novel trilogy.
On The Seashore by Rodolfo Baldassarri
'True love is like the waves. It always comes back'.
Rome, summer 1986, Valerio Redi is coming of age amidst a wealthy enclave of society. When he meets Barbara, his world turns upside down. He's a good boy who has to overcome being bad, if he's ever to find – and keep – the girl of his dreams.
Rodolfo is an Italian author, based in Germany, and this novel – the first in the 'Red String of Fate' trilogy is an English translation. The subsequent books, Infinity and Like the Waves, are already best sellers in Europe.
And Then She Shines by Helen Libby
'Five women, five issues, five feed-good reads'.
A collection of novelettes, this publication brings together Ruby's Secret; Love, Anna; Laura's Embrace; Finding Ella, and Helen's newest story, Cassie's Choice.
Helen is based in Shropshire and writes both fiction and non-fiction. Her other publications centre on her Zuchon, Archie: the 'How To' books about bringing up a puppy and a young dog.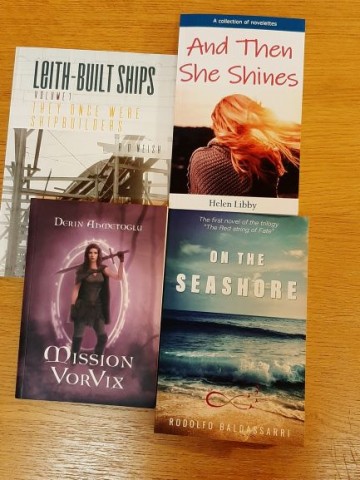 Happy Reading!
Anne x