Back in the summer, I posted about a couple of excellent new novels from Scottish authors. This month I'm casting the net a little wider to include Ireland and England, and three newly published books from three more fantastic writers and friends: Hazel Meredith-Lloyd, Paul Soye and Sharon Black.
How I met each of these authors could write a story in itself, but today I'll keep the skeletons in the cupboard...Truth might be stranger than fiction, but these are three cracking stories - and about as different from the others as it's possible to get.
Baby Steps: Hazel Meredith-Lloyd: Amazon
Adoption. Disability. Wishes and dreams. Baby Steps is about hitting your early thirties and starting a family...

Jenny has cystic fibrosis and diabetes. She has a colour-coded list of things she wants to give to her future children, but her genes aren't on it. As she and her husband, Kyle navigate the challenges of the adoption process, their best friends, Helen and Jake, fall unexpectedly pregnant.

Can Jenny convince the adoption panel that she and Kyle can cope with looking after her health conditions as well as parenting two children who've had a difficult start in life? Moreover, can best friends stay close when one couple has had thrust upon them what the other longs for?
Two Lives: Paul Soye: Mayo Books Press
Two Lives tells the story of Gavigan, who is on a journey of discovery about his late mother and, indeed, himself; and Natasha, a young woman from a different rung on the social ladder, who is struggling to find her feet.
Returning to the home where he was traumatically taken into foster care as a young child, Gavigan is on a journey of discovery about his late mother and, indeed, about himself.
Natasha, though from a different rung of the social ladder, also comes from a challenging upbringing comprising of a loving, but absent, father and a mother who is emotionally remote.
Set during the period of the post Celtic Tiger crash, Two Lives is a story of two peoples' efforts to overcome adversity. Can they succeed?
The Last Saturday in July: Sharon Black: Poolbeg
Two weddings, a cursed castle, one unforgettable day...
On her hen night, Jess Bradley unexpectedly finds herself on a ferry to the Isle of Man, shipped off by inebriated friends. The outcome? A passionate one-night stand, an encounter she vows to keep secret to her dying day.

Back home, she grapples with her high-pressure job as a marketing manager for a prestigious hotel group. Then, to her horror, she discovers that the man she slept with is her boss's nephew and her new co-worker, Adam Rourke.

Fate plays a wicked hand as Jess and Adam are thrust together to oversee a celebrity wedding at the opulent Linford Castle in the West of Ireland. Guilt gnaws at Jess as she struggles to hide her upcoming wedding from Adam while concealing her one-night stand from her fiancé, Simon. To complicate matters further, the weddings are on the same day, and the American reality-TV celebrity's relationship with her 'Casino King' fiancé seems to be heading for disaster.

In a whirlwind of emotions and secrets, Jess struggles to keep both weddings on track. She can't escape the growing sense that chaos and catastrophe loom on the horizon, on the last Saturday in July.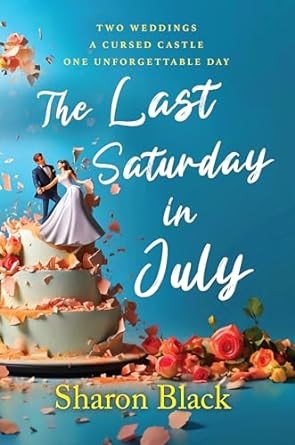 I defy you not to find something you'll enjoy in this promising trio!
Anne x