There's nothing like watching a book go from idea, to page, to publication - even if you're simply standing in the shadows cheering the author on. This month sees the publication of two new novels, both from talented Scottish-based women, both set in Scotland: Ann Lilley brings us Vermillion Days, and from Sarah Clayton, comes The Wrong Daughter.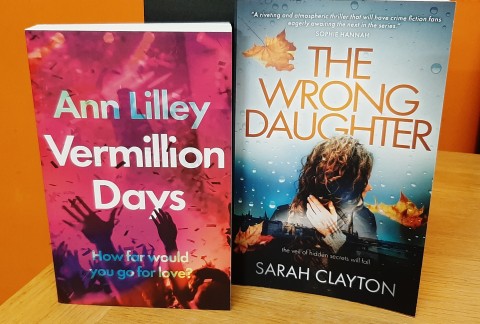 Vermillion Days: Ann Lilley: Matador Publishing
How far would you go for love?
Jo will never sleep with Ricky. Every other woman on the planet might find him irresistible, but Jo knows exactly what he's like.
She's quite content in her role of flatmate and best friend, thank you very much. Busy seeing off Ricky's hook-ups as she juggles her university studies with bartending work. Ricky, in any case, is too preoccupied pursuing Rock superstardom with his band, Vermillion, to notice her unrequited feelings.
But when his Glasgow band is scouted and the bright lights of London beckon, Jo realises she must make herself indispensable or lose him forever. As her own traumatic past begins to catch up with her, friendships and trust crumble. Jo has a choice to make. To keep up with Ricky's growing fame is going to require some serious reinvention. With her plan in action, she soon finds her new sex, drugs and rock'n'roll lifestyle isn't all it's cracked up to be. It's a risky game and her heart's at stake. But to win, Jo might have to go all the way.
The Wrong Daughter: Sarah Clayton: Write Wild Books
The veil of hidden secrets will fall...
Eve Park's seemingly peaceful life in Tippermuir House, Perthshire is shattered when she uncovers her mother's hidden betrayal. Now drowning under the weight of her own secrets, Eve is left with a choice: should she run or risk the consequences of confronting the awful truth?

Nora Winter's sheltered existence on the Isle of Skye is ripped apart when her father unexpectedly dies. Despite everyone believing his death is suicide, Nora soon realizes that something far more sinister lurks beneath the surface and sets off to uncover the truth. But for every answer she unearths, more questions arise and Nora begins to suspect that there is a deadly secret far bigger than she ever could have imagined.

DS Lark Calmly has devoted his career to upholding justice, but as soon as he is assigned to investigate the death of Eve's mother, he suddenly finds himself struck by Eve's alarming resemblance to his late sister, Jenny. His emotions take over and he launches out on a frantic quest chasing Eve to Edinburgh and then on to an explosive confrontation full of dark secrets and shocking revelations.
Highly recommended!
Anne x