It doesn't matter if it a haiku poem or an epic saga, whether it's your first short story or your tenth novel, that frisson of excitement on receiving an acceptance, never disappears.
It's the single (often unexpected) rose amongst the thorn of (often many, many) rejections.
I'm delighted to have one of those rare show-off moments (please indulge me!) right now, with the publication of No Good Deed. Made all the better because the stories in this anthology are all donated, and all proceeds support a very deserving cause.
Every year Retreat West Books publishes a themed anthology of short stories to support a charity. This year's charity is Indigo Volunteers, which places volunteers in refugee camps and community development projects around the world. They don't charge the volunteers or the organisation they place them with any fees so rely entirely on fundraising to support their important work.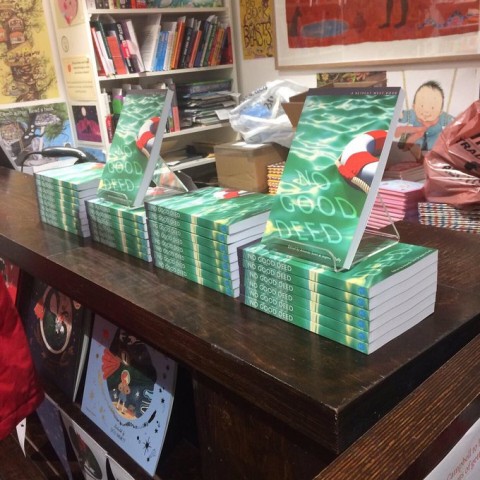 No Good Deed, features the theme of 'Help' (interpreted in many which ways) and is edited by Amanda Saint, author and Retreat West Books founder, and Sophie Duffy, author and creative writing tutor with Creative Writing Matters.
My contribution, Fly By Night, is the journey of ten year old Elena, taken through the night from one side of a war-torn island to the other, to find safety in the mountains. It's set in 1970s Cyprus, and is the inspiration for my novel, Chasing Elena*, and shows how important is simple kindness and a practical helping hand when the world around you appears to have lost all sense.
I'm currently delving in to all the other stories: the light, the dark, the funny, the emotional. From the editorial:
"These funny, heart wrenching, surreal and uplifting stories on the theme of 'Help' are raising funds for the Indigo Volunteers charity. From afternoon drinking opera singers and a son saving toads for his father, to a woman hiding a refugee boy in her garden shed and a homeless man being given a hand of friendship, help is shown in many different ways".
It's a privilege to be included. If you'd like to buy a copy to support Indigo Volunteers, just click this handy link! www.amazon.co.uk/No-Good-Deed-stories-Volunteers/dp/1916069347/
Anne x
*My currently unpublished novel, if any influential agents or publishers happen to stumble across this blog, buy the book, enjoy the story…What? I'm an eternal optimist!